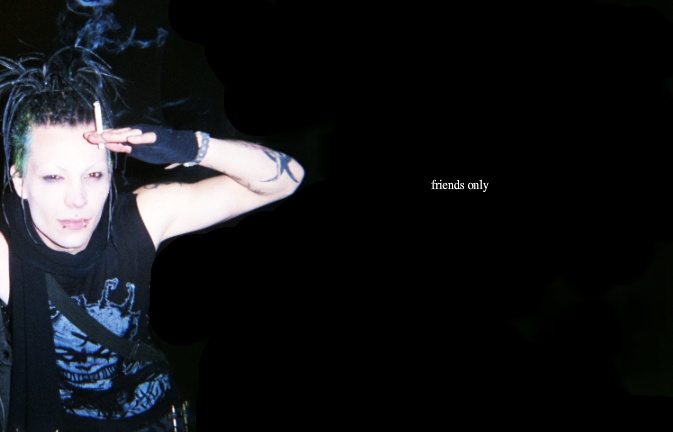 Friends only.
Comment to be added.
I've been using InsaneJournal for a couple of years now, give or take, and recently there's been an incredibly irksome bout of outages that keeps me from doing anything there.
That, combined with the fact that I've had a Stephen King sort of weekend (The Shining on Friday, Everything's Eventual on Thursday), has spurred me into action. I've been writing what could be fanfiction--but isn't, I guess--in a Misery-esque setting, with a couple of my characters.
But the kicker is that I'm trying a new format. I'm using tumblr, linked to a custom domain. Each chapter (in the true style of King, I guess) is pretty short, and done chronologically (FOR EASY SCROLLING ACTION).
So far, there's a little page link that goes to a photo and a one-line character description, and there are a few chapters up. It is a work in progress, though there's no more for the time being, because
I
know who they are, and the person this is all dedicated to knows who they are. But hey, if it generates any bit of traffic, I'd love to have a reason to add on.
Without further ado, here you go:
NOT SO PRETTY NOW [DOT] COM
Let me know what you think. Since this idea is still pretty much a fetus, I've got lots of space and willingness to wriggle.
So I guess the logic behind it isn't exactly sound, but I'm experimenting. After a long sort-of hiatus, I'm trying something new. Possibly it's cool--if nothing else, I feel extremely productive.
ikebana_arthaus
. Feel free to add/prompt over there.
THERE YOU GO.
Oh hai. Regarding my 1,000 Theme Challenge thing, I have transferred it over to another account which will serve strictly that purpose. You can find it at
I really enjoyed writing this one, because, well, the plot thickens. Bob's intro. Epic?
BELLZ ATTEMPTING TO WRITE BANDOM PART DEUX
So after long days of fighting with myself on whether or not to jump on the bandwagon (OH HO HO, YOU SEE WHAT I DID THERE? PREMEDITATED PUNNERY) I finally took the plunge, and here you go.
So it's not like I can be like, "Oh hay, so I know how you've been dying to have me write something for you, so here is your chance," because you do not know me. Unless you are Ace, then you do. But I'm looking up. Maybe someone that isn't her will read this eventually.
SO HERE IS THE LIST OF THINGS THAT I AM EVENTUALLY GOING TO WRITE ABOUT APPARENTLY. I will write things for you. Go go go.
(
CLICK
Collapse
)
Because I am trendy.
Current Mood:

optimistic
1
2
3
4
5
6
7
8
9
10
11
12
13
14
15
16
17
18
19
20
21
22
23
24
25
26
27
28
29
30
31
32
33
34
35
36
37
38
39
hobbit_eluned
I wasn't sure which Bellz you would be interested in, so I basically threw in a little bit of everything. If you have anything more specific in mind, let me know, okay?
14 Bellz icons
17 MCR icons
1
2
3
4
5
6
7
8
9
10
11
12
13
14
15
16
17
18
19
20
21
22
23
24
25
26
27
28
29
30
31
Request by
Current Music:

Lovesong::Voltaire
1
2
3
4
5
6
7
8
9
10
11
12
13
14
15
16
17
18
19
20
21
22
23
24
25
26
27
28
29
30
31
32
33
34
35
36
37
38
39
40
41
42
43
44
These are for insanecrane over at greatestjournal. Some of them. I don't think the Kitten icons will do for him, unfortunately. XD